Sailing with a team or with clients
As a team we determine the course, we set the sails, stand at the helm, arrive in the port in the evening and toast together on an exciting sailing day. These are the moments that make a team stronger.
Use a sailing day or a sailing trip on the Oban to share your entrepreneurs vision with colleagues and business partners. Also with your clients, you'll find enough time to have (a serieus or relaxed) conversation with them.
Such trips are extremely suitable for creating a bond between you and your clients, for team building and training or project development.
The Oban feeling
Our traditional sailing ship can board up to 18 people on extended tours. On our day trips we have space for 50 people. Aboard the Oban we sail, eat and work together. There are a lot of active moments, but there's lots of time and space as well as for relaxing and conversation. In the evening, we'll be in a port or on a beautiful anchorage.Time to reflect on a successful and satisfying day.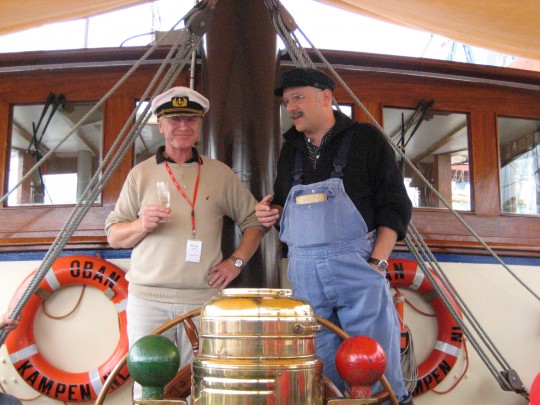 Representative or very relaxed?
We can arrange a festive reception for your guests or a friendly sailing trip with your colleagues. Together we can set up a program for team building with communal cooking and sailing. But an incentive trip for your staff belongs to the possibilities as well, in which case your delicious meal will be prepared by our cook. Just as you wish. Another option is working on our ship on a project while you sail and relax in between. You can book the Oban with crew per day. Please contact us and ask for the possibilities and the available dates Tel: 0031-38-332 32 77