Lots of time together
You'll have an unforgettable time together aboard the Oban! Finally you'll have all the time in the world to give each other attention, enjoying your meals together, chatting, watching the waves, hoisting the sails or taking a walk on the beach. Until the early hours, telling stories from long ago or making new plans. experience with your friends or family beautiful days aboard the Oban!
Moments of silence
On board the Oban you can always find enough moments to relax, to sunbathe or to doze awhile in your own cabin. Simply doing nothing and unwinding on the rhythm of the waves, while the crew takes care of the voyage.
A place for everyone
On the tween deck you will find usually those who like to maintain contact with others. On theforedeck you can enjoy the sound of the waves. At the wheel are the real sailors or those learning to be one. On the deckhouse are the sunbathers and at the reardeck one can peacefully read a book. Children have lots of time and space to play, but they'll probably like helping the crew as well. There's always the opportunity for them to play in the extra day accomodation. Everyone can find a place and favourite spot of their own on board. When we've reached our goal and destiny for that day we'll celebrate our arrival with an "arrival beer".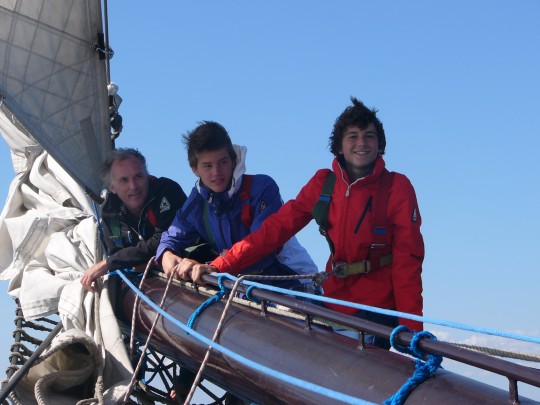 Harbour flair and Beach feeling.
The evening will be spent in port or we'll anchor on a beautiful spot. Here we can have a barbecue together on deck or eat inside while viewing the water. You can stroll through a harbor town and maybe enjoy an ice cream. For children there's plenty to explore on the coast. Often the canoes on board can be used and it's possible to swim around the ship. In the evening under the starry sky, there'll be so much to talk about…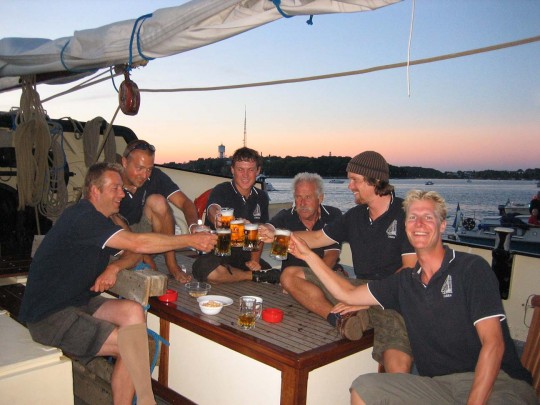 Of course we can adjust the activities if it is within our scope of possibilities, every day we discuss wishes and possibilities. The captain likes to hear your wishes! You can book Oban with crew per day.
Please contact us and ask for the possibilities and the available dates Tel: 0031-38-332 32 77 or mail to info@sailoban.com